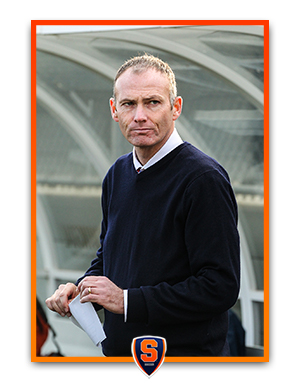 Head Coach/Camp Director
Ian McIntyre
Since taking over the reins in 2010, Ian McIntyre has gone about the task of building the Syracuse men's soccer program into a national contender. McIntyre has led Syracuse to seven winning seasons since 2012 with an 89-48-24 record during that span. During his tenure, the Orange have been selected to the NCAA Tournament six times, including three Sweet Sixteen appearances (2012, '14 & '16). The 2015 campaign was the most successful to date in school history. The Orange, which finished the year with a 16-5-4 record, won its first ACC Championship and advanced to the College Cup for the first time.
Elite-level players have keyed the Orange's success. McIntyre's recruiting classes have consistently been nationally ranked by TopDrawer Soccer and College Soccer News. On the heels of the Orange's success, Syracuse has produced 5 MLS Top Ten Draft selections (2015-2020), most recently Ryan Raposo (4th overall). With a total of 14 MLS SuperDraft selections in the last six years, the most of any collegiate program, and a record-setting 6 straight Generation Adidas signees (2015-2020), Syracuse Men's Soccer has established itself as one of the premier programs in the country.
A 1996 Hartwick College graduate, McIntyre owns a 201-134-62 record in 21 seasons as a college head coach. He's been honored with multiple coaching awards, including spearheading the BIG EAST Coaching Staff of the Year in 2012 and being tabbed the ACC Coach of the Year and NSCAA South Region Coach of the Year in 2014. The SU soccer staff creates a dynamic training environment that allows each student-athlete an opportunity to fulfill their individual potential. Collectively Syracuse men's soccer is committed to training and working tirelessly towards its goal of capturing a national title. McIntyre has over 25 years of experience directing competitive soccer camps and prides himself on creating a fun, exciting camp environment that has attracted campers from all across the United States and beyond. (Read full bio)
AN ALL-AMERICAN PLAYING CAREER
Before becoming Hartwick's sixth head coach, McIntyre was a standout player for the Hawks, earning NSCAA First Team All-America honors as a senior in 1995. He helped the program to two NCAA Tournament berths and a 52-20-7 record in his four seasons (1992-95).
SU SUCCESS
5 MLS Top Ten Draft Selections 2015-2020
6 Consecutive MLS Generation Adidas Signees
2015 NCAA College Cup Seminfinalists
2015 ACC Champions
MLS SuperDraft
2020
Ryan Raposo, Round 1 - #4 Vancouver Whitecaps FC
Nyal Higgins, Round 1 - #19, Toronto FC
2019
Tajon Buchanan, Round 1 - #9, New England Revolution
Kamal Miller, Round 2 - #27, Orlando City SC
2018
Mo Adams, Round 1 - #10, Chicago Fire
2017
Miles Robinson, Round 1 - #2, Atlanta United
Liam Callahan, Round 2 - #24, Colorado Rapids
Chris Nanco, Round 3 - #11, Philadelphia Union
Oyvind Alseth,Round 3 - #21, Toronto FC
Sergio Camargo - Toronto FC Homegrown Contract
2016
Julian Buescher, Round 1 - #11, DC United
Ben Polk, Round 1 - #20, Portland Timbers
2015
Alex Bono, Round 1 - #6, Toronto FC
Skyler Thomas, Round 1 - #11, Toronto FC
Jordan Murrell, Round 3 - #17, Real Salt Lake