Coaches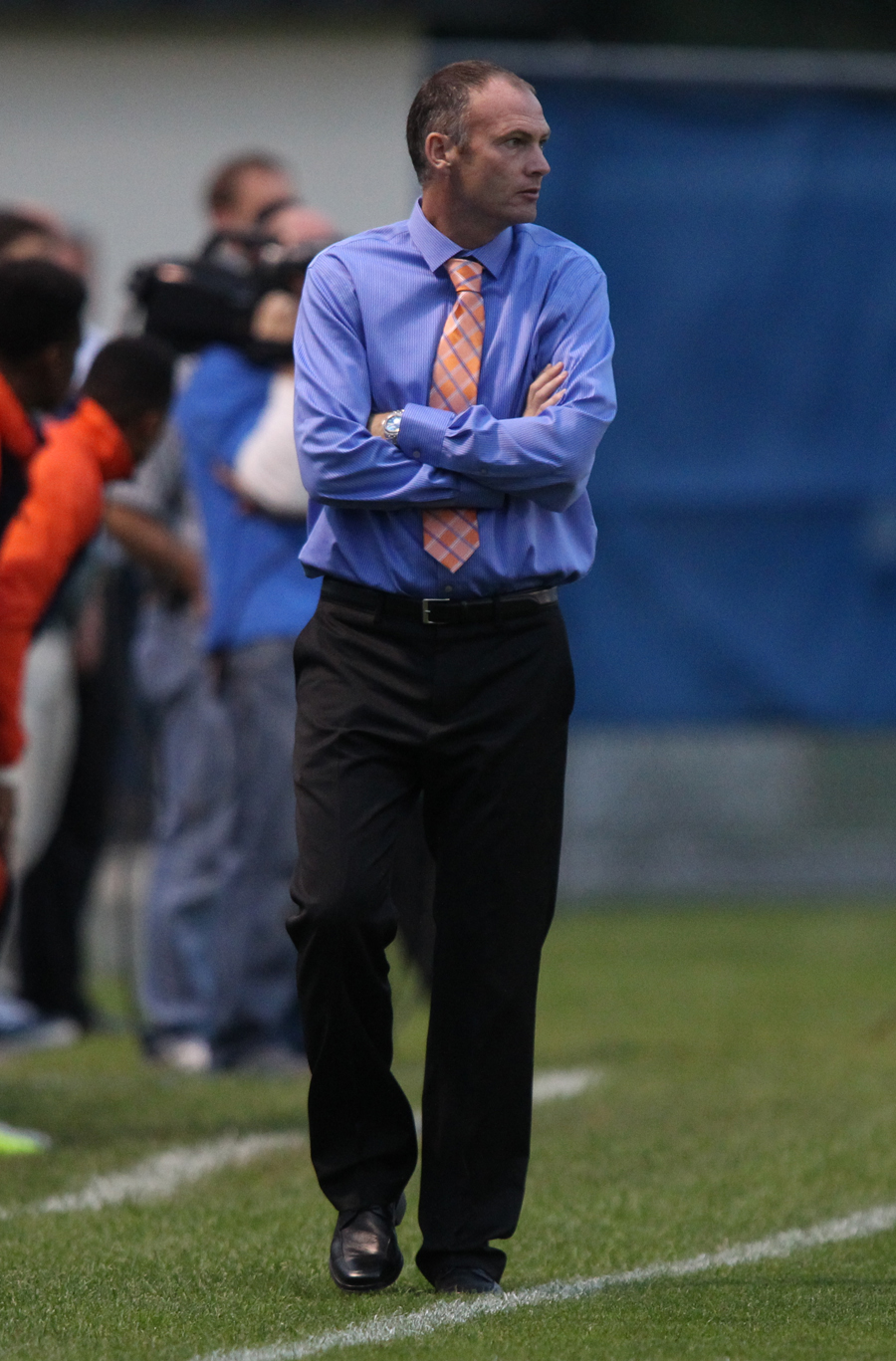 Camp Director
Ian McIntyre
SU SUCCESS
2016 12-4-4 NCAA Tournament Sweet Sixteen
2015 16-5-4 NCAA Tournament College Cup & ACC Champions
2014 16-4-2 NCAA Tournament Sweet Sixteen
2013 10-7-1
2012 14-6-1 NCAA Tournament Sweet Sixteen
MLS SuperDraft
2016 - Miles Robinson, Round 1 - #2 Atlanta United
Liam Callahan, Round 2 - #2 Colorado Rapids
Chris Nanco, Round 3 - #11 Philadelphia Union
Oyvind Alseth, Round 3 - #21 Toronto FC
Sergio Camargo - Toronto FC Homegrown Contract
2015 - Julian Buescher, Round 1 - #11 DC United
Ben Polk, Round 1 - #20 Portland Timbers
2014 - Alex Bono, Round 1 - #6 Toronto FC
Skyler Thomas, Round 1 - #11 Toronto FC
Jordan Murrell, Round 3 - #17 Real Salt Lake
One of the brightest head coaches on the college circuit, Ian McIntyre led Syracuse to unprecedented heights. In just his third year at the helm the Orange was the most improved team in the country en route to the NCAA Tournament Sweet 16. After the inaugural ACC campaign in 2013, McIntyre Guided the 2014 team to the ACC Coastal Division Championship, another trip to the NCAA Sweet 16, and earned ACC Coch of the Year Honors. In addition, the program earned it's first NSCAA #1 National Ranking while goalkeeper Alex Bono finished as a First Team All-American, Hermann Trophy Finalist, and #6 MLS SuperDraft selection. Skyler Thomas was also selected in the first round at #11 while Jordan Murrell went in third as the overall #57 pick. The following 2015 season saw the team capture it's first ACC Tournament Championship before being knocked out in penalties at the NCAA College Cup at Sporting KC Stadium. Juniors Julian Buescher and Ben Polk were selected #11 and #20 in the MLS Superdraft First Round. The 2016 squad bounced back with another strong outing finishing the season again in the NCAA Sweet 16. Syracuse had it's most successful MLS SuperDraft when four players were drafted by MLS clubs lead by sophomore Miles Robinson who was selected with the overall #2 pick in the first round. Liam Callahan #24 (overall), Chris Nanco #55 (overall) & Oyvind Alseth #65 (overall) joined Miles along with Sergio Camargo who signed a homegrown contract with Toronto FC.
A 1996 Hartwick graduate, McIntyre owns a 180-112-49 (.593) record in 18 seasons as a college head coach. He's been honored with multiple coaching awards, including spearheading the BIG EAST Coaching Staff of the Year in 2012 and ACC Coach of the Year in 2014.
REVIVING A SLEEPING GIANT

Prior to taking the Orange reins, McIntyre spent seven seasons (2003-09) as the head coach at his alma mater, Hartwick College. He guided the Hawks to four 10-win seasons in his tenure and an appearance in the 2005 NCAA Championship.
McIntyre succeeded the legendary Jim Lennox in 2003 and promptly led the Hawks to 15-2-1 overall record, the most wins for the program since 1993. The following year, McIntyre was named the regional coach of the year after presiding over a 13-3-3 campaign that featured a nine-game winning streak and an Atlantic Soccer Conference runner-up finish.
In 2005, McIntyre guided the team to another 13-win season and the Atlantic Soccer Conference regular-season and tournament titles. For his efforts, McIntyre was rewarded with 2005 Atlantic Soccer Conference Coach of the Year honors, and by virtue of its conference championship, Hartwick earned its first trip to the NCAA Tournament in a decade. Two years later, McIntyre was the driving force behind Hartwick's successful move from the Atlantic Soccer Conference to the MAC, qualifying for the league's postseason tournament in all three seasons (2007-09) he was at the helm.
AN ALL-AMERICAN PLAYING CAREER
Before becoming Hartwick's sixth head coach, McIntyre was a standout player for the Hawks, earning NSCAA First Team All-America honors as a senior in 1995. He helped the program to two NCAA Tournament berths and a 52-20-7 record in his four seasons (1992-95).
McIntyre scored 18 goals and had 10 assists in his career and developed a reputation for clutch goal-scoring. He tallied game-winning goals in NCAA Tournament victories against Rutgers and Boston University in 1993, and the Hawks were 16-0-1 in McIntyre's career when he scored a goal. View Full Bio...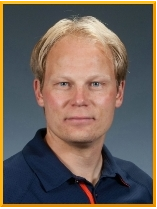 Assistant Coach
Jukka Masalin
In 2008, Masalin joined McIntyre's staff at Hartwick and helped lead the Hawks to a pair of MAC Tournament appearances and a 10-4-4 overall record in 2009. While at Hartwick, Masalin earned his first head coaching assignment. He served as the head coach of the Maine Sting in the National Premier Soccer League (NPSL) during the spring of 2009.
Prior to coming to the U.S. in 1995, Masalin was active in the Finnish soccer community. Between 1987 and 1993, he gained international experience as a goalkeeper for the U-16, U-18 and U-21 Finnish national teams. Once arriving stateside, Masalin embarked on a collegiate playing career at Lander University in Greenwood, S.C. where he was a two-time All-Peach Belt Conference honoree. With Masalin on the roster, the Bearcats recorded a 60-19-3 overall record and advanced to the NCAA Division II Championship in 1996.
Following his collegiate career, Masalin remained at Lander as an assistant coach for the men's and women's soccer programs and earned his bachelor's degree in exercise science from the school in 2002.
Masalin holds a pair of UEFA coaching licenses. He earned his UEFA "B" license in 2005 and his "A" license in 2007. Masalin also holds a UEFA Fitness Diploma from the German Football Federation.
As a professional player, Masalin made 23 European Cup (Champions League and UEFA Cup) appearances and played in more than 300 top-flight professional games in Germany, Sweden and Finland. During the last 10 years, he has been invited to observe some of the top European clubs train, including Liverpool FC (English Premier League), Bayer Leverkusen (German Bundesliga) and Paris Saint-Germain FC (Ligue 1).
Born in Lahti, Finland, Masalin and his wife, Carmen, live in Liverpool, N.Y. with their dog, Sisu.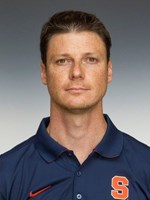 Assistant Coach
Matt Verni
A versatile coach with experience at every level of college soccer, Matt Verni joined the Orange staff as an assistant coach in 2014. Verni has coached the college game since 2000 and possesses 10 years of head coaching experience. He assists head coach Ian McIntyre in all facets of the program, including recruiting, team training and opponent scouting.
A graduate of Hartwick College, Verni came to the Orange after serving as the head women's soccer coach at his alma mater from 2007-13. Verni ranks third on the Hartwick women's list for career victories (42) and guided the team to back-to-back ECAC Tournament appearances in 2012 and 2013. He mentored nine Empire 8 all-conference performers in his seven seasons with the Hawks, including four in 2013.
Prior to taking the reins at Hartwick, Verni spent three years (2004-006) as the head coach of the Division II men's program at the University of New Haven. He was named the 2006 East Coast Conference (ECC) Coach of the Year after leading the Chargers to a berth in the ECC Tournament championship match and coached five all-conference honorees during his time there.
Verni got his college coaching start as a women's assistant coach at St. Bonaventure in 2000. He also made men's assistant coaching stops at Hartwick (2001) and New Hampshire (2002-03).
A college teammate of McIntyre's at Hartwick, Verni played four years of varsity soccer for the Hawks from 1994-97. In 1995, Verni and McIntyre were members of the Hawks squad that reached that second round of the NCAA Tournament after defeating St. John's in the opening round.
Verni holds several national coaching diplomas and received his USSF 'B' License in 2013.
Verni graduated with a bachelor's degree in economics from Hartwick in 1998. He has a wife, Amy, and son, Cooper.