2018 Syracuse University College ID Camp

June 30, 2018 - July 03, 2018
The SU ID Camp is designed for the committed soccer player (14+ years old) who seeks exposure to a competitive, Division I training environment and an opportunity to work with college coaches, including the Syracuse men's soccer staff. We take tremendous pride in our SU ID Camp Series. Currently we have twelve student-athletes on our Syracuse University roster who were identified through this very same program.
Training sessions will be conducted on Syracuse's outstanding state-of-the- art facilities, and campers will be showcased in both small-sided and full-sided tournament games. The Syracuse soccer staff will provide each camper with additional information on topics such as how to approach the recruiting process, player development, and the demands and expectations placed upon a college student-athlete. Each camper will receive a written evaluation at the conclusion of camp.
Goalkeeper specific training is also available and is directed by our Syracuse University soccer staff.
What to Bring to Camp:
Soccer Cleats, Indoor shoes, Change of clothes, Shin-guards, Sunscreen, Bedding, Snacks.
All meals are included.
Registration Day Schedule:
11.30am-1.30pm Check In and Registration
2-4pm Training
4-6pm Dinner
6:30-8:30pm Evening Matches
Camp Daily Schedule:
8:00am-8:30am Breakfast
9-11:30am Training
11:30am-1:30pm Lunch
2:00pm-4:00pm Training
4:00pm-6:00pm Dinner
6:30pm-8:30pm Evening Matches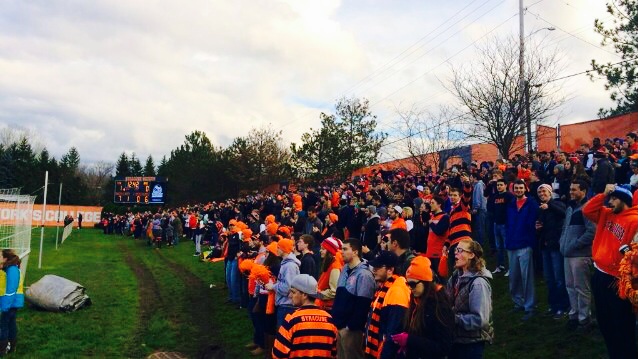 Syracuse University Soccer Stadium and Hookway Training Complex
2018 Syracuse University College ID Camp
Gender: Male | Ages: 14 - 19
June 30, 2018 - July 03, 2018 | Syracuse, New York
Sat, June 30, 2018 - Tue, July 03, 2018
Manley Field House, 1301 E. Colvin St
Syracuse University Men's Soccer Office
Syracuse
,
New York
13244-5020